Long ago (1994), I wrote and published an essay in Cultural Anthropology titled "Beyond Writing: Feminism and the Limitations of Ethnography." That was in many ways my swan song to academia. As I licked my academic and other wounds and struggled to make ends meet, I was happy now and then to hear how my essay was being used in graduate seminars on research ethics and ethnographic writing. Now, Cultural Anthropology is featuring that essay among four others (as well as some fine short stories) in a curated collection on Literature, Writing and Anthropology.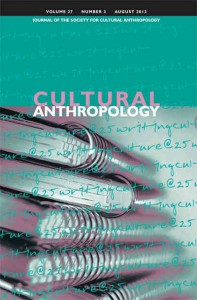 The editors, Darren Byler and Shannon Dugan Iverson, also interviewed us with questions like "What is the purpose of stories?" and "Is ethnography art?" You can see my answers here.
After being out of the academic loop for so long, I find it gratifying to sit alongside thinkers like Ruth Behar (one of my favorite ethnographers) and Vincent Crapanzano and also among some fine fiction writers like Michael Martone and Lucy Corin.  I'm also thrilled to discover ethnographic work by S. Lachlann Jain (Cancer Butch) and Stuart McLean.
This curated collection coincides with the 25th anniversary of Writing Culture by James Clifford and George Marcus, a book that influenced many in my generation of anthropologists. The latest issue of Cultural Anthropology reflects on that influence and where to go next.
Kudos to the editors and to Cultural Anthropology for a great job and for making lively collections like Literature, Writing and Anthropology available online.