"I am fascinated and haunted by Elizabeth Enslin's story. Nobody else could tell it. It will stay with you and won't let you go."
– Luis Alberto Urrea, author of Into the Beautiful North and Hummingbird's Daughter
"Elizabeth Enslin is a daring original, both in life and on the page. While the Gods Were Sleeping is a love story, an adventure narrative, and an anthropological study in one, written with a global awareness, free of the exoticism we associate with foreigners in Nepal. Sharply observant and full of wisdom."
– Alden Jones, author of The Blind Masseuse: A Traveler's Memoir from Costa Rica to Cambodia
Love and marriage brought American anthropologist Elizabeth Enslin to a world she never planned to make her own: living among Brahman in-laws in a remote village in the plains of Nepal. As she faced the challenges of married life, birth, and childrearing in a foreign culture, she discovered as much about human resilience, and the capacity for courage, as she did about herself.
While the Gods Were Sleeping: a Journey Through Love and Rebellion in Nepal (Seal Press, 2014) tells a compelling story of a woman transformed in the most intimate and unexpected ways. Set against the backdrop of increasing political turmoil in Nepal, Enslin's story takes us deep into the lives of local women as they claim their rightful place in society, and make their voices heard.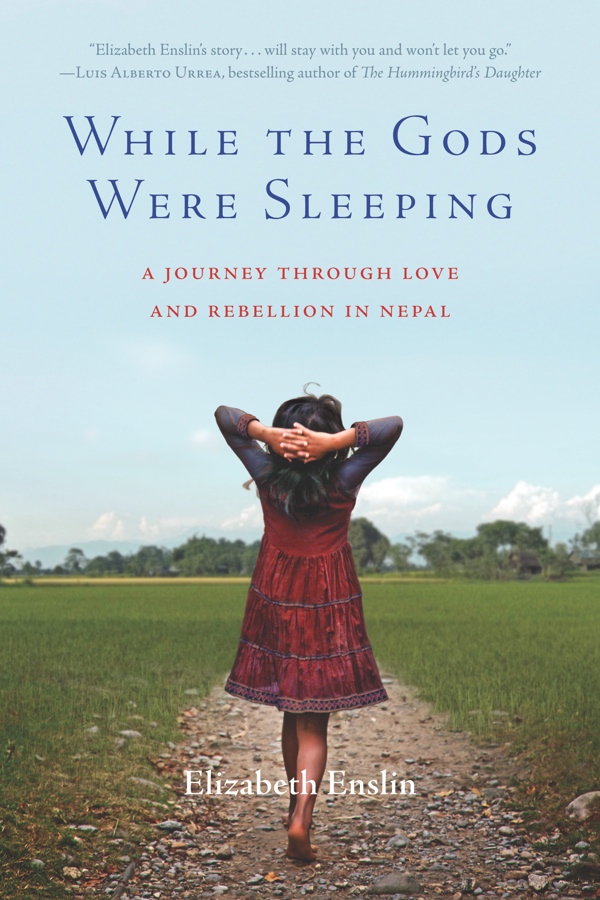 Finalist for an Oregon Book Award in Creative Nonfiction
Buy now
Powell's | IndieBound | Amazon | Barnes and Noble |
Books a Million | Indigo (Canada) | Flipkart (India)
In Kathmandu bookstores:
Mandala Book Point | Bookworm
Order signed copies from The Bookloft in Enterprise, Oregon. The store will mail them to you after I sign.
A portion of the proceeds from this book will be donated to the Rural Health Education Service Trust (RHEST) for projects dedicated to improving women's reproductive health in rural Nepal
"This finely written memoir transports the reader into a society on the cusp of social and political transformation. The barriers to gender, caste and class equality that Elizabeth Enslin reveals continue to impede Nepal's quest for democracy today. This is an inspiring and challenging read for activists, rebels and dreamers everywhere."
– Manjushree Thapa, author of Forget Kathmandu
"A fascinating memoir written with such clarity and honesty that it's like taking a years-long trip through a little-known part of Nepal, far from the glamour and tourists of Kathmandu. Enslin's story is utterly unique yet broadly representative of billions of humans in so-called marginal places all over the world caught between tradition, politics, idealism, human nature, the environment, the local economy, the decidedly mixed blessings of globalization, and the simple pleasures of food, family, and the natural world."
– Pamela Olson, author of Fast Times in Palestine
"Elizabeth Enslin's While the Gods Were Sleeping captures the struggle of Nepali women fighting for their rights and Enslin's own challenges as a participant/observer in this battle. From her unique vantage as daughter-in-law in a Nepali family and an anthropologist conducting field research, Enslin manages to honor her subjects' hardships while keeping her white, Western privileges in check. Enslin's honesty refreshes and her glimpses into this tradition-bound world far off the tourist's well worn paths are riveting and haunting. A bold read steeped in pungent realism and lasting inspiration."
– Elyssa East, author of Dogtown: Death and Enchantment in a New England Ghost Town
"If the fascinating, important story doesn't draw you into Enslin's telling of her time in Nepal, then the beautiful, moving prose will."
– Kerry Cohen, author of Seeing Ezra
Some Photos