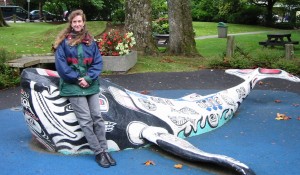 The Early Years
Through my mostly absent father, I'm a fourth generation Oregonian. But I was born and raised in Seattle. I spent my childhood reading books, tending a menagerie of pets, birdwatching, snorkeling and scuba diving.
The Academic Years
I planned to study wildlife science in college but grew bored with chemistry and pre-calculus. I dabbled in English, philosophy, and French and finally settled on anthropology as a clever way to straddle the humanities and sciences. I'm still trying to figure out if that was a good idea, but I did graduate from the University of Washington and went on to earn a PhD in cultural anthropology from Stanford University in 1990.
With funding from various sources, including the MacArthur Foundation and Social Science Research Council, I did some research in Chitwan District, Nepal on gender and space, social inequality, women's organizing strategies, poetics and politics, and cultural differences in cultivation and land use. I delivered lectures and published academic articles on these topics, but I learned the most about Nepali culture by marrying into a politically active Brahman family, giving birth to my son, and helping out on the farm.
The Teaching Years
I've taught at Stanford University, The Evergreen State College, Lewis and Clark College and advised graduate students at The University of Iowa and Syracuse University. But I had no desire for a career in academia. In the mid-90s, I ventured out of the ivory tower to work as a non-profit administrator, grantwriter, and independent consultant.
Wanting more stimulation, I began teaching social studies at the Portland Waldorf High School on September 11, 2001. In the aftermath of what happened that day, I developed a social studies curriculum to deepen historical memory and broaden cross-cultural understanding. Often inspired and always moved by my students' journey through adolescence, I engaged them through role plays, lively discussions, and song. I retired from full-time service at PWHS in 2007. I miss working with teens (seriously), but I love having more time for my many projects — which brings me to….
The Farm Years
For the last few years, I've been dividing my time between a house in Portland, Oregon and a farm in a remote corner of northeast Oregon. This summer (2013), we moved to our farm full-time.  Maybe we'll finish our strawbale house some day. Meanwhile I write literary nonfiction and poetry, mentor graduate students at Prescott College now and then, grow and market gourmet garlic and heritage hogs at Amaranta Farm and learn to work with yaks.