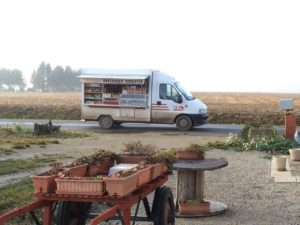 At a social gathering last night, a neighbor and I talked of the coming winter, the heavy snows last winter, the joys and frustrations of getting snowed in, and the importance of stocking up. But we also fantasized about food delivery. How wonderful it would be, we agreed, if a truck delivered fresh fruits and vegetables and other healthy foods to our scattered settlements in the North End of Wallowa County, Oregon.
Then I remembered visiting France two years ago and the convenience and delight of the daily "baquette truck" that stopped in front of the house where I was staying in Luméville-en-Ornois, Lorraine. My hosts mostly bought fresh baquettes every morning. But the truck sold other staples and treats too. It was like a neighborhood grocery store on wheels.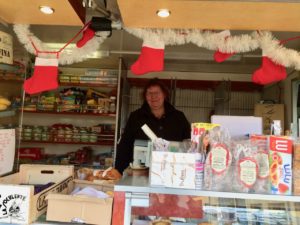 I don't remember seeing any bakeries or shops in Luméville, so the truck saved families frequent trips to bigger towns.
Of course, folks in northeastern Oregon don't organize every meal around fresh bread, so we don't need daily bakery deliveries. But it would be kind of wonderful if we did. Perhaps there's a career opportunity for someone in all this….