My obsession with self-sufficiency often leads me into the trap of thinking I should know how to do everything. And if I don't know, I should learn how. Then I'm humbled by an emergency.
The emergency yesterday was a flat tire on a remote section of highway 15 miles from town.
I could have changed the tire myself. I carry a fine spare in the back of my Subaru. But at age 57, I still dread changing a tire. I've watched it done many times and practiced it a few myself. But I'm not confident. I fear putting the jack in the wrong place and having the car fall over on me. I worry about the pain in my wrists which will prevent me from loosening the lug nuts. I fear pain in my knees when I kneel.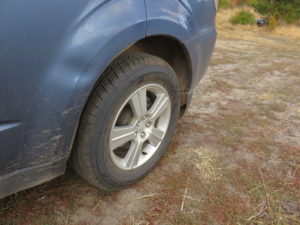 Besides, I pay AAA an annual membership precisely for this kind of problem, and I haven't called on them for five years or so.
My cell phone wavered between one and two bars, but after a few tries I got through to AAA. The dispatcher took my information and promised to send someone from Enterprise. I soon received a text message with an exact time that Mike's Garage would arrive.
With my window unrolled to the still summery air, I had twenty minutes to listen to NPR and watch some cattle wander by on the lightly forested slope across the road. The cows and calves stopped to look at me. Some mooed. I suppose I seemed out of place and worthy of note. But they didn't seem too alarmed. They moved on. Ahead of me was a small glimpse of glorious panorama that opens up as the highway continues south and forest gives way to grasslands. I can see the mountains are already dusted with early snow. Not a bad place to wait for roadside assistance.
Mike's Garage arrives with a flatbed about a minute before the text message said he would. He blocks the lane behind us with his truck and turns on the emergency lights. The highway is lightly traveled. But Huge RVs and logging trucks pass this way and usually move fast once they get to the bottom of Snow Hollow Hill and reach this relatively flat stretch. I wandered up the road to a brushy area to pee while Mike's Garage changed the tire. A truck slowed down as I walked back. I recognize a neighbor. He asked if I needed a ride back home. I told him I was fine. And I was. Within ten minutes, Mr. Mike's Garage had changed the tire, and I resumed my trip to town.
All in all, I spent about 45 minutes dealing with the tire, probably about the same amount of time I might have spent trying (and perhaps failing) to change the tire myself.
Instead of spending the afternoon in the library like I planned, I spent it at Les Schwab. I did have to buy new tires. But it was about time for that anyway. After a quick dinner and a grocery stop, I head back, confident that my new treads will carry me safely home.
Meanwhile, Jerry was on his way to Portland. I learned this morning that he hit a deer between Elgin and Imbler. Fortunately, the deer died immediately, and Jerry was able to drive his truck with a broken door and bumper on to LaGrande. There, he bought duct tape and patched things up so he could continue on to Portland. He seemed pleased, as usual, with his duct tape approach to self-sufficiency, though we both know he'll have to get some proper repairs done on some of those car bits.
I'm just as pleased with myself for calling for roadside assistance.
Lesson learned: it's okay to ask for help, especially when you're already paying for it.