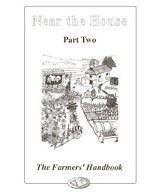 I happened upon this great-looking permaculture resource from Chris Evans and Jakob Jesperson: The Farmers' Handbook. It grows out of years of experience in Nepal but could be helpful anywhere. Did I mention, it's FREE!
You can pick and choose various chapters to download (pdf files) from Permaculture Research of Australia

Or you can download in bigger chunks at Green Shopping (scroll down through other free offerings to find Volumes 1-5 of The Farmers' Handbook).